Regular price
Sale price
$ 10.00
Unit price
per
Save
Sold out
No heavy liquids to ship or travel with, this is a waste-free way to wash your hair. Coconut and Argan oil combine with Kokum butter to clean without stripping your hair, this SLS-free alternative leaves hair soft, nourished and clean. The silk and oat proteins strengthen hair while botanical extracts like chamomile, aloe and bamboo give your scalp some soothing love!
0% Parabens
0% Sulfates
0% Silicones
0% Phthalates
0% Synthetic Colorants
Just get your hair wet, take the bar and rub it all over your scalp and down the shaft of your hair if you have long hair. Put the bar down and work it into a wonderful lather.  
Ingredients: Coconut Oil, Glycerine, Water, Sodium Hydroxide, Sodium Cocoyl Isethionate, Sorbitol, Argan Oil,  Sorbitan Oleate, Oat Protein, Kokum Butter, Silk Amino Acids, Bamboo Extract, Chamomile Extract, Sunflower Extract, Aloe Leaf Extract, Carrageenan Extract, Marshmallow Root Extract, Peppermint and Tea Tree Essential Oil, Mica, Titanium Dioxide, Oxides (Chromium Green or Iron based on color)
View full details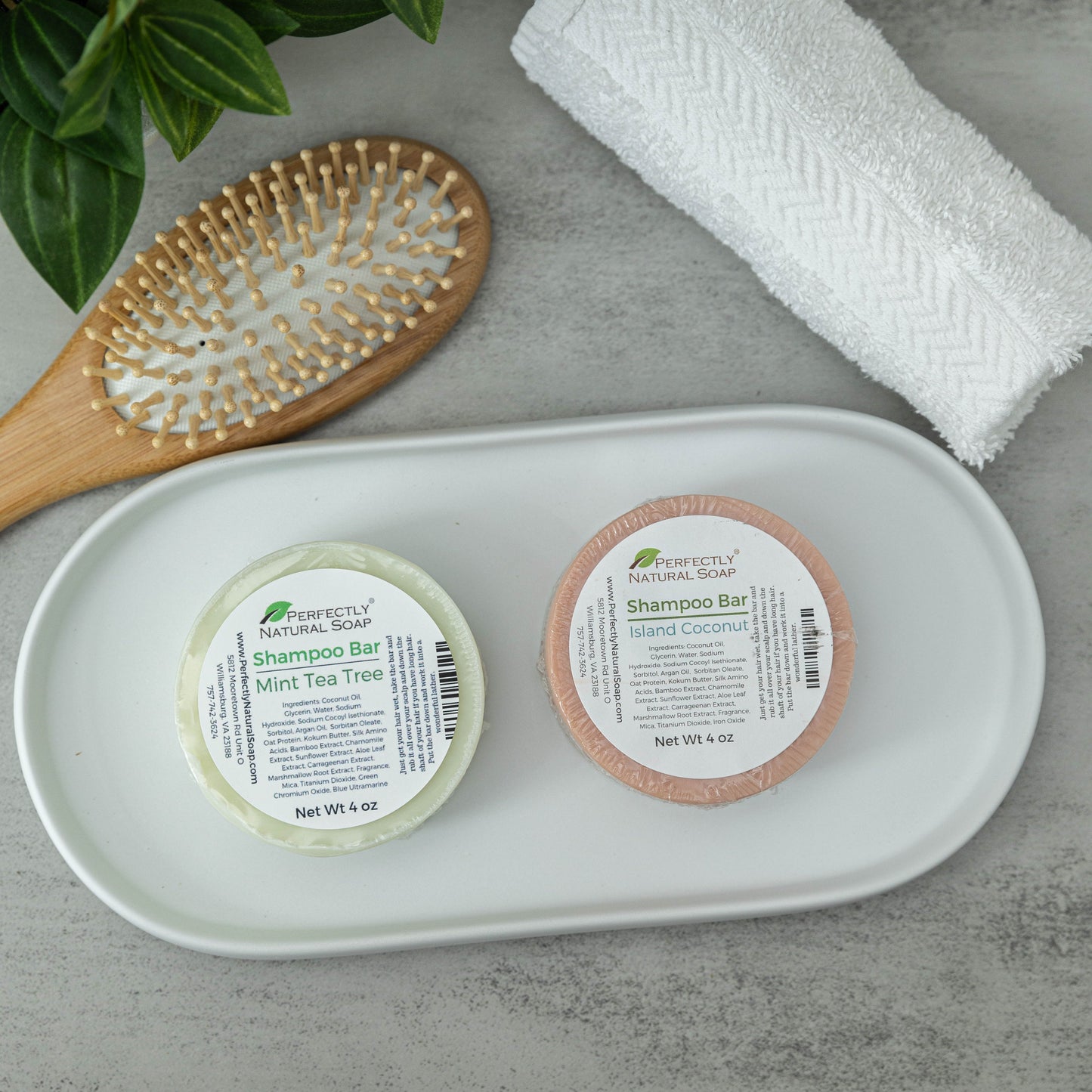 I love the coconut shampoo bar. Leaves my hair nice and silky. I am trying to reduce my plastic use and this fits that bill nicely.
Amazing shampoo
I was hesitant to buy this shampoo disk but, oh I'm so glad that I did!!! The lather is incredible and this shampoo is the easiest to take along while traveling.
Best Shampoo Bar!
I tried the coconut scented bar while visiting Virginia to see if it would give my hair some body and a good clean feel. It certainly did, with great scent and lots of lather. Best thing is it works so well even in the hard water of upstate NY, where I live. Glad I bought an extra bar to bring home wirh me ♥️😁
Love Shampoo Bars!
I have long hair and very sensitive skin. The coconut shampoo bar works great in my hair. I don't break out with it. I haven't been able to smell in more than 2 years, so I cannot say anything about the scent. My hair doesn't tangle as bad with this coconut bar shampoo as it did with other bar shampoos that also didn't break out my skin. How it makes my hair feel - WIN! How it works on my skin - WIN! I haven't needed a conditioner with using it - WIN!
Super Sudsy
I'm very pleased with the shampoo bar. It lathers easily with lots of suds. I would definitely recommend this product.