Regular price
Sale price
$ 14.00
Unit price
per
Save
Sold out
As anyone who has ever taken a soothing epsom salt bath before bed knows, our skin loves nothing more than deep restful sleep after being swathed in magnesium. Our Magnesium Lotion gives you that burst of magnesium with our Sweet Dreams sleepy aromatherapy blend of lavender, juniper and vetiver. 
This thick lotion made with rich moisturizing ingredients like Shea Butter and Argan Oil, will leave your skin feeling soft and hydrated.
To Use: Simply pump the desired amount into your hands or directly on your body and massage into your skin.
4 oz bottle with lotion pump
Ingredients: Water, Magnesium Chloride, Safflower Oil, Shea Butter, Aloe Vera, Glycerin, Emulsifying Wax, Stearic Acid, Argan Oil, Silver Dihydrogen Citrate, Essential Oil Blend 
View full details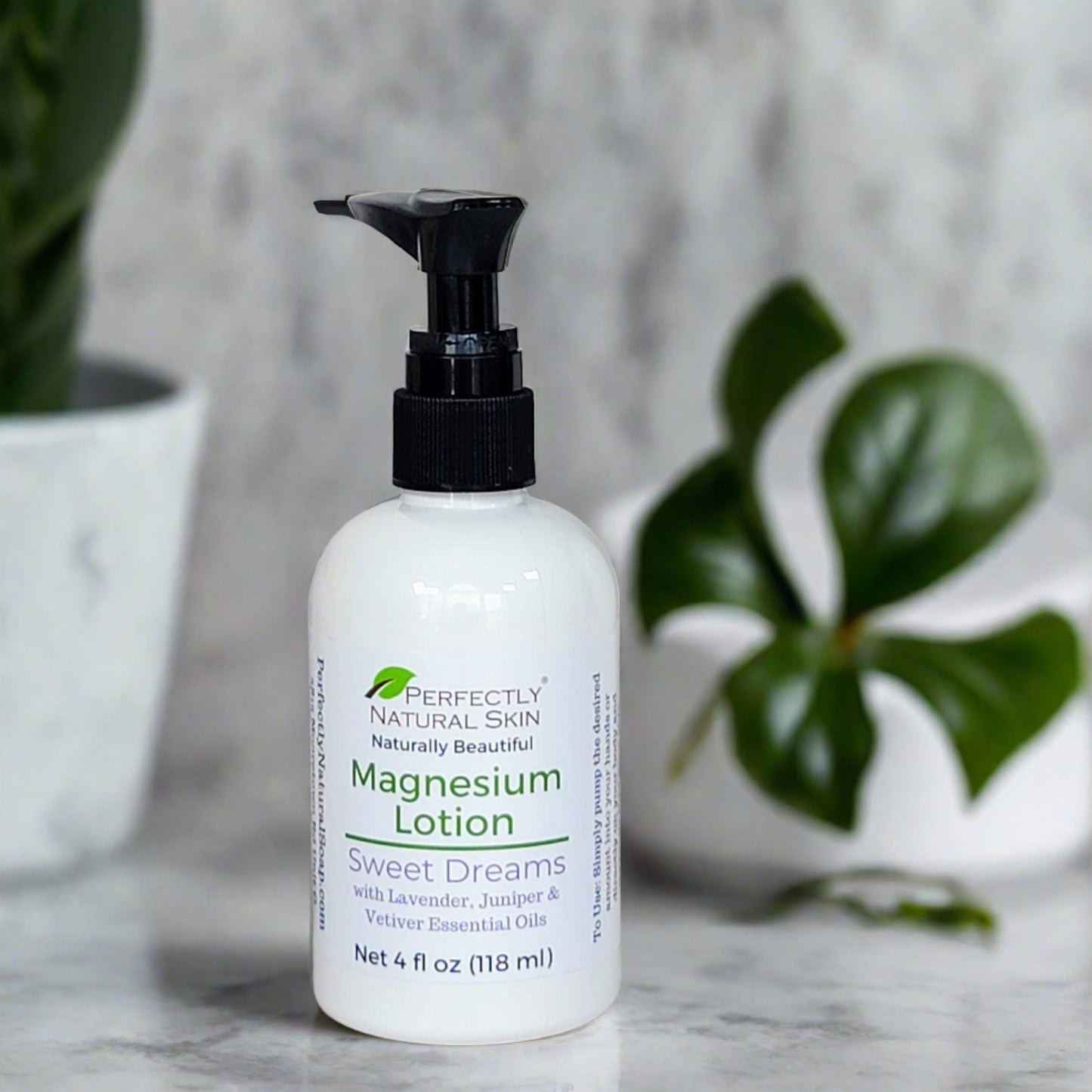 Very soothing
I bought this thinking it would be a nice nighttime addition to hand lotion.I now use it on my chest, arms and hands so I can smell the scent! It is rich, yet not greasy. The fragrance is amazing- I feel like I am walking through the woods with lavender all around. It does help my bedtime routine by adding a very soothing fragrance and then the added benefit of the ingredients.
Sweet Relief
I lift weights regularly and this lotion really helps relax my muscles after a workout and help me sleep. Great stuff! I can almost feel it start working instantly and it helps me sleep soundly through the night.
Magnesium Lotion
Relief blessed relief. Leg cramps break up my sleep. Many products promising to relieve muscle cramps line my bedside table. Seeking yet another solution for muscle spasms, a sales associate recommended MAGNESIUM LOTION. I was led to the instore display and given a chance to try the Magnesium Lotion. Putting a drop om my fingertip, I rubbed it into a trigger point on my shoulder. After a few seconds I noticed a slight difference. Long story short, I purchased the lotion. Last night when the cramps started, I rubbed the lotion on. Again, within seconds the muscle relaxed. WOW! Magnesium Lotion brought relief. It's not greasy or sticky. Try it, buy it, it works!
Magnesium Lotion
Tried this out for the first time, and i really like it......great for relaxing muscles and helping with sleep. Thank you!