Regular price
Sale price
$ 16.00
Unit price
per
Save
Sold out
Glow Natural Facial Oil is a luxurious blend of oils that will restore your skin's youthful glow. Made with squalane, camellia and jojoba oil, rosehip, evening primrose, sea buckthorn, vitamin E and marula oil. This facial oil is light weight but very nourishing for all skin types. It absorbs quickly into the skin without leaving any greasy residue behind. Our facial oils are made from high quality natural ingredients so you can feel good about using them on your face every day.
To Use: Use every night after you cleanse and tone. Place a pea-sized amount of Facial Oil onto fingertips. Warm the oil between your hands and spread evenly over your face.
1 oz (30ml) in a Glass Bottle with Glass Dropper Dispenser
Ingredients: Olive Squalane, Camellia Seed Oil, Jojoba Seed Oil, Rosehip Oil, Marula Oil, Evening Primrose Oil, Tocopherols (Vitamin E), Sea Buckthorn Oil, Rose Petals, Rose Bulgaria Absolute, Chamomile Roman Essential Oil
View full details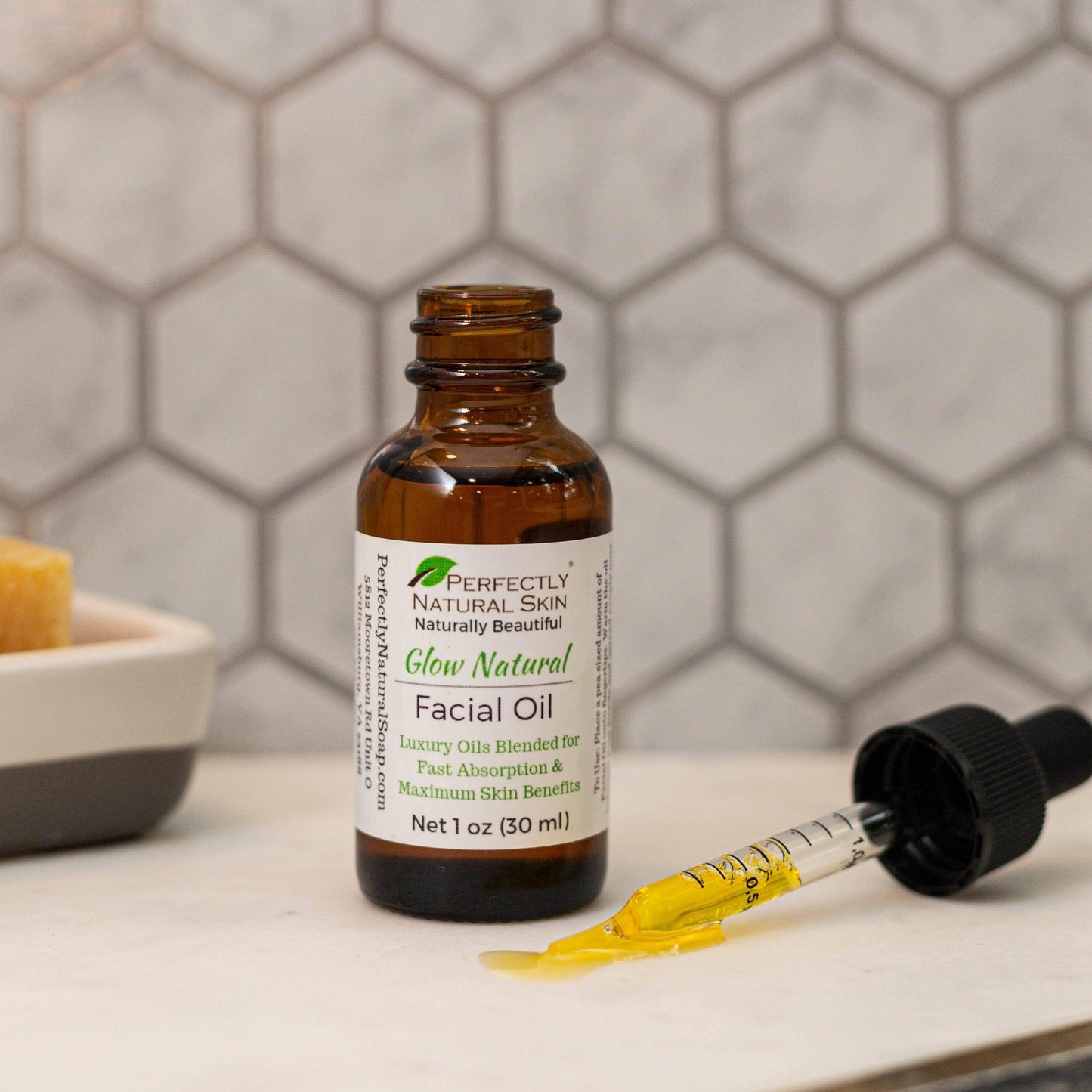 I love this oil
This facial oil makes my skin so soft. I love the way the skin products make my skin glow.
Magical oil!
I use all of these products. Nothing else touches my face anymore. After washing, I'll use one of the spray masts and put on either the tone and texture serum or the vitamin C serum. Let it sit for a moment, put on the eye cream, then pat on this amazing magic in a bottle. I have used everything from expensive to drugstore, purchased all kinds of neck creams, and so forth after one week my skin, and any crepeiness was all but gone. It is absolutely amazing and I don't ever want to be without it. I also have very sensitive skin with patching from psoriasis, don't want to make a medical claim here, but it is nearly gone with this group of products. Kudos to an absolutely astounding product!
I'm in love
The results speak for themselves. My skin has never looked better, and this facial oil has become a staple of my facial routine.
Glo Facial Oil
YAS! a big resounding YASSSS! I add some Patchouli Essential Oil to this amber goodness & it's like bathing in pure gold each night! It it my absolute favorite night time moisturizer - 10/10
Glow Natural Facial Oil
Well this is just delicious ;p my skin soaks up this butter every night!!! After routine I use this as my night time moisturizer. Added a little Patchouli EO to it & can not get enough of it!