Regular price
Sale price
$ 8.00
Unit price
per
Save
Sold out
For a traditional wet shaving experience, we have a line of traditional shave soaps. This soap formula was created to be a balance between having rich lather and being conditioning. The lather protects the skin and softens the beard while providing an extremely close shave.

Bay Rum is the traditionally masculine scent of Bay leaf essential oil plus a blend of citrus oils. While Bay Rum can be a bolder scent, as with all of our shave products, we are careful not to over-scent to avoid any irritation to the sensitive skin on your face.
Fully soak your shave brush in warm water and shake out excess.  Load brush with soap by swirling over the shave soap.  Using a shaving scuttle or mug, work loaded brush into lather using additional water as needed.  Add water in ¼ tsp increments to keep lather from becoming too loose. Cover area to be shaved in lather and proceed to shave as usual.
Our Shave Soaps are 2.75" in diameter.
Ingredients: Stearic Acid (Vegetable Derived), Water, Avocado Oil , Cocoa Butter, Shea Butter, Potassium Hydroxide, Organic Palm Oil, Aloe Vera Juice, Coconut Oil, Glycerin, Sodium Hydroxide, Castor Oil, Sodium Lactate, Bentonite Clay, Natural Fragrance
View full details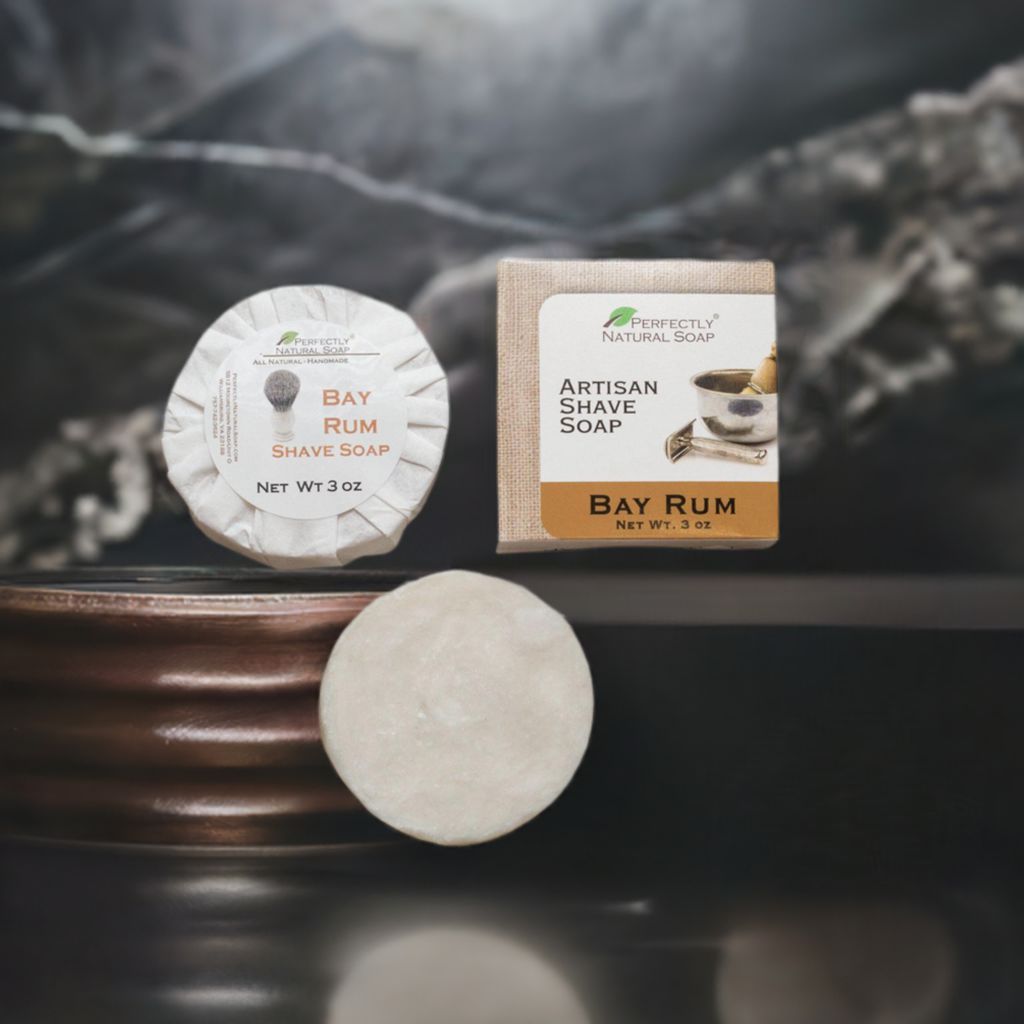 Shave
Putting natural products on my face makes me feel great.
This lasts me a year, people.
I have used this product for three years, and purchased 3. It lasts that long! And before you think I'm some baby-faced twice-a-week shaver, think again. I have a real beard and shave every day. I wanted a quality natural soap, made by a small company, and I've found it with Perfectly Natural.
The scent is not strong at all - pleasant enough, not over-powering. The soap lathers well, and as I mentioned - it lasts a year, people!
I hve no idea why you are still reading this - isn't the soap in your cart already?
Aww -- Thank you! You just made our day!
Shave soap that delivers
Hoping to get my husband to buy something nice for himself, he picked the Bay Rum shave soap. He has enjoyed investing in quality shaving products for several years. Combine dryer weather during winter with aging skin, and you want something that conditions, not just lathers. This is a wonderfully scented soap and leaves the skin so nice...take it from his wife! And did I mention that it's totally affordable! Shocker, I know.
Four Stars
Jury\'s out on this, will evaluate further as soap is used.
Wonderful Bay Rum smell
Smells great, doesn\'t take much to whip up a creamy lather.