Regular price
Sale price
$ 8.00
Unit price
per
Save
Sold out
Formerly our Baby Balm, we've updated the name of this product to reflect it's many uses!  Why "B" Balm?  Because it's the perfect balm for "b"abies, pregnant "b"ellies, nursing"b"oobies, and tender "b"ottoms.
This salve has the consistency of an ointment and can be used to soothe dry or chaffed skin. Its soft texture ensures a very gentle application to already tender skin.  Infused with Chamomile, Calendula and Comfrey, this soothing balm is a must have for new moms and moms to be - or anyone with hyper-sensitive skin in need of soothing!
1.5 oz
Ingredients: Sunflower Seed Oil, Beeswax,  Calendula Flower Extract,  Chamomile Flower Extract,  Comfrey Leaf Extract, Tocopherol (Natural Vitamin E), Lavender Essential Oil
View full details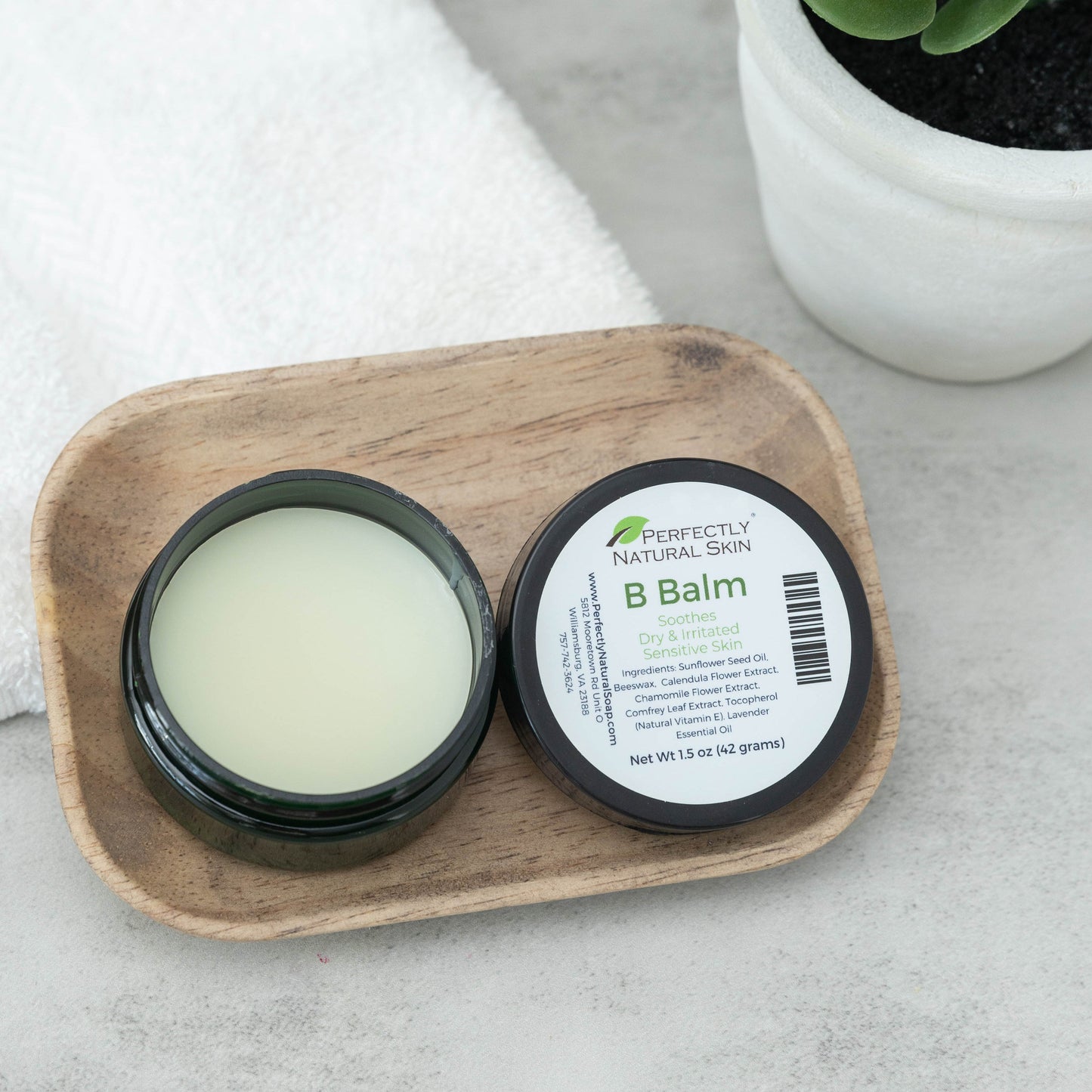 B is the bomb!
B balm is so smooth and silky on my dry nails, hands and feet! I love the spa like smell and creamy texture.
I even rub it on my elbows. Makes my skin glow and smoothes out all my rough spots ;-)
B Balm - Love it!
A friend gifted me two Perfectly Natural Soap products in January. The nail cream and hand cream. After loving those products I placed an order for more and ordered B Balm to try in my psoriasis areas. B Balm has softened the rough patches and it smells so good!!!
This stuff is amazing
I ordered this to help with my dry skin around my nose when I had a cold. One application helped my skin dramatically! It is so gentle and soothing that I used it on my 14 month old's nose and face when she had dry chapped skin too. I love this product and did not know how much I needed it until I ordered it. I'm sure it will continue to come in handy as we move into spring and summer.
A must have for spring and summer
This stuff is honestly a godsend I use it for so many things. Dry skin, itchy skin, rashes, poison ivy, bug bites, sunburn. I buy it every time i have a beach or camping trip planned.
Works so well!
This balm has been a lifesaver for my little one with eczema. It works wonders on dry and red skin. It's so soothing. It also lasts